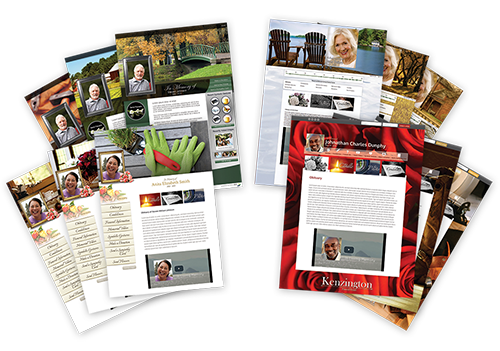 Memorialize and celebrate memories forever with our Online Tributes. Choose from the four different tribute layouts we have available, each with over 100 themes for your families to select from for their loved one. Our Online Tributes are designed with your families in mind and has the flexibility to personalize each tribute page to your family's needs.
Our tribute pages are completely interactive, allowing family and friends to post condolences, symbolic gestures, photos and even videos. Tribute pages can be managed by families via a user name and password which is delivered to a designated email address. Notices are automatically generated whenever there is a new post and a 'Thank You" email is automatically generated and sent to each and everyone that makes a contribution to the Online Tribute.
We have listed below, a summary of some of the wonderful things you can do with our Tribute pages.
Layout
As stated before, we have different layouts and many themes for you to choose from such as nature and wildlife, sports, career, hobbies and even religious inspired designs. Additionally, multiple pictures can be uploaded and they will appear like a slide show at the top of the Online Tribute page.
Obituary
Family members can compose and post the official obituary of their loved one. You are not limited by the number of words and names as with print and radio announcements, so family members can be creative and include all those important details and memories. A memorial video can also be included as part of the obituary.
Condolences
Well wishers can convey their condolences to the family from any part of world, by simply clicking a button.
Service Information
Details about the service, interment/cremation and any other events planned can be displayed here for family, friends and well wishers. Events can also be designated as private, such as a viewing, and will therefore not appear on the Tribute page.
Memorial Video
A memorial video of all your favourite pictures, moments and special memories can be uploaded to the website to be viewed at any time by all.
Candles & Symbolic Gestures
Light a candle, send roses or a symbol of their favourite pass-time by using our Symbolic Gestures. These little images can be posted to the Tribute page along with a few words in remembrance of that special something about your loved one.
Photos
They say 'a picture is worth a thousand words', so why not use our Tribute Photos to tell the story of your loved one and open a window into the life once lived. Family members as well as friends and well wishers can post pictures of their favourite and fondest memories.