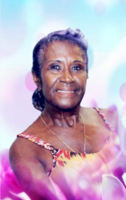 Ursula Haynes
Ursula will be lovingly remembered as the:
Wife of the late George Haynes
Daughter of the late Francis and Catherine Bernard
Grand-daughter of the late Agnes Wharwood (Grenada), Fredrick and Fedilia Rousseau
Mother of Althea, Allison, Alicia, Anthony, Anna Marie Haynes and Michelle Arthur (Step-daughter)
Adopted Mother of Kenny Olivel and Viola Sutton
Sister of Beulah, Barbara, Cecil, the late Neville and George Bernard, Carlton, Vincent and St. Hill
Mother-in-law of Renee Haynes
Grandmother of Tesfaye, Timisha, Annesha, Tamera, Tamia, Lexi, Akayla, Terrell, Safiya and Ché
Daughter-in-law of the late Charles and Venice Haynes
Sister-in-law of Carrie (U.S.A), Margaret, Ann, Randolph, Winston (Canada), Ouida and Gloria
Aunt of Fareeda, Francisa, Len, Alloy's and many others
Niece and Cousin of many
Relative of the Bernard, Rousseau and Wharwood families and many others
Friend of Mrs. Ermin Baptiste, Angela Andre, Ellma Taviener, Betty Mc Leod, Mrs. Scipio, Boogie, Karamath, the Medina, Bowrin families and many, many others
Members of The Princes Flower Lodge, Boys & Girls Birthday Club, Soup Kitchen Committee, Extradinary Ministry of the Eucharist,
friend of the Hold Cross R.C., Princes Town Servol Board, Princes Town Retirees Association and T.S.T.T
ACKNOWLEDGEMENT
The family of the late Ursula Haynes wishes to express sincere thanks and appreciation for the
many visits, prayers, phone calls, cards and words of comfort and encouragement. Your kindness and thoughtfulness
during this time of our bereavement are very much appreciated.
Special thanks goes to Lisa Phillip Mc Nicolls, Michelle Walcott and Lashelle Moe.
May God Richly Bless All of You.