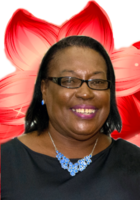 Heather Drakes
Heather will be lovingly remembered as the:
Daughter of the late Nooks and Vira Drakes
Wife of Ramkissoon Bridglal a.k.a. "Chalkie and Jack"
Mother of Natasha Boney and Sterling Drakes (Cebo)
Sister of Leon (U.K.), Evelyn, Fimber (Baba), Cecily (U.S.A.), Claudia, Gregory, the late Leroy, Louisa and Nathalie
Mother-in-law of Eves Boney
Grandmother of Raine Petekin (USA) and Zavhia Drakes (USA)
Sister-in-law of Leslie Bridglal, Rose Calder, Pamela and Beverly Drakes, Martin Mark, Shirley, Patsy and Sheila
Aunt of Georgina, Leela, Wendell, Wendy, Sarah-Gene, Chynne, Byron, Bevon, Nadia, Michael, Marsha, Melinda, Meagan, Joseph, Joel, Kerdesha, Khadeem and many others
Great-Aunt of nineteen (19)
Cousin of the Drakes, Calder and Mitchell families
Relative of Victoria Robinson
Friend of the Boodoosingh family, Petty Ali, Myna Harrysingh, Sisto Singh, Annie (Canada), Baby, Pinky, Madame Socks, Nip, Trevor and many others
Special thanks to Dr. Liane Conyette and the Oncology Department of San Fernando General Hospital
ACKNOWLEDGEMENT
The family of the late Heather Drakes wishes to express sincere thanks and appreciation
for the many visits, prayers, phone calls, cards and words of comfort and encouragement. Your kindness and
thoughtfulness during this time of our bereavement are very much appreciated. May God bless you all.