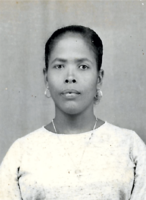 Irene Budhoo
Irene will be lovingly remembered as the:
Wife of Wilber Budhoo
Daughter of the late Glendora Selman (Una)
Grand-daughter of the late Joseph Selman
Mother of Paul and Perry Budhoo and the late Peter Budhoo
Sister of Linda, Carol, Christine, Jason, Glen, Ancil, Allison, Kenny and others
Daughter-in-law of the late David Budhoo
Sister-in-law of David and Bunny Budhoo
Grandmother of Daniel, Dane and Dashawn Budhoo
Aunt of David, Patrick, Mary, Leslie Ann Budhoo and Gary Hill
Niece of Tiny, the late Lima, Rosey and Boysie
Cousin of Vera, Susan, Adlene (U.S.A), Brenda, Robert (U.S.A), Alroy, Lydia, the late Gloria and Lynnis
Relative of the Selman, Jordan, Duncan and Humphrey families
Friend of Avinish, the Khan family, Mr. & Mrs. Anthony Lewis and others
ACKNOWLEDGEMENT
The family of the late Irene Budhoo a.k.a. "Tants" wishes to thank you most sincerely for your expressions of kindness
and sympathy extended to our family during our time of sorrow. May God bless you all!