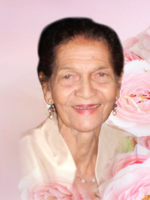 Cipriana Chin Sing
Cipriana will be lovingly remembered as the:
Wife of Christopher (Slim)
Mother of Fabian, Edward, Ken and Marge
Mother-in-law of Judy, Sue Ying, and Sharon
Grandmother of Candice, Craig, Chase, Annie, Quan Woon, Camille and Christopher
Great-Grandmother of Isaiah, Emma, Kai and one other of Canada
Sister of Louise, Edith. The late Olive, Clyde, George, Venice, Rita, Rupert
Sister in-law of Juanita, Cinty, Maureen, Michael, the late Joe, Evelyn, Cecil and St. Clair
Aunt, Great-Aunt and Godmother of many
ACKNOWLEDGEMENT
The family of the late Cipriana Chin Sing a.k.a. "Ruby" wishes to thank you most sincerely for your
expressions of kindness and sympathy extended to our family in our time of sorrow.
May God bless you all!