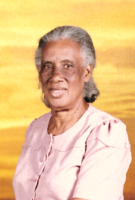 Claire Ynold Millet
Claire will be lovingly remembered as the:
Daughter of the late Norbert and Myra Millet
Mother of Brenda Millet-Buffong, David Pitt (Lynn Pitt) and Alitha Scott
Sister of Enid Valentine, Eileen Gebon, the late Doreen Bostic and Samuel Millet
Grandmother of Marlon Butcher (Karen Bajnath-Butcher), Colin Alexander, Quincy Scott (Lyana Semper-Scott), Natalie Scott-Jones,
Michael Scott, Natasha Scott-Mwangi (Gerald Mwangi), Jason Pitt, Arleen Pitt-Smith and the late Joel Pitt
Great-Grandmother of Cameron, Chelsea, Cairo, Gabriella, Dominic, Joshua, Vanessa,Teriq, Tyonne, T'sean, Tamara, Reshana and Jevon
Niece of Sybil, Clare and Evans
Aunt of Cynthia, Lynette, Laurel, Kenneth, Victor, Brian, Valerie, Cheryl, Marilyn, Claudette, Maureen, June, Kenneth, Michael, Desmond,
Allison, Donna, Patricia, Lyn-Louise, Ronnel, the late Mervyn, Laurie and Rosemary
Great-Aunt of Michelle, Rachelle, Wayne, Quincy, Jason and others
Cousin of James, Bernadine, Bernard, Ohanli, Ulani, David, Michael, Kenny, Linda, Maurice, Jenny and Deborah
Relative of The Boodlal, Gebon, Millette and Valentine families
Friend of Lorna De Gourville, Sandra Sealey, the Frasers, Sempers, Huggins, Carreiras, Smiths, Watermans, Wilkes, Daniels,
Mascalls and Burnettes, the late Hilda Millington and others
ACKNOWLEDGEMENT
The family of the late Claire Ynold Millet a.k.a. "Mama" wishes to express sincere thanks and appreciation for the many visits, prayers, phone calls, cards and words
of comfort and encouragement. Your kindness and thoughtfulness during this time of our bereavement are very much appreciated. May God bless you all.