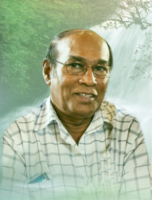 Ramnarine Beharrylal
Ramnarine will be lovingly remembered as the:
Husband of Lallita Stella Beharrylal
Son of the late Beharrylal and Rosie of Tarouba, Marabella
Father of Andrew, Lisa, Rudy and Ravi
Brother of Reynold, Vijav, Suresh (deceased), Savit, Krishna and Sham
Father-in-law of Matthew Jackson, Melissa Kamla and Reena Ramkhallawan
Son-in-law of the late Adhar and Dookhnie Mungal of Palmyra
Brother-in-law of Robin (deceased), Rachael "Darling", Ethel, Alswin, Morrison and Rajkcoomar
Grandfather of Mark, Johnathan, Shinnell, Nikita, Athena, Angelia, Ariston and Kaden
Great-Grandfather of Matthew and Emmanuel
Uncle of Annie, Natalia, Delia, Rishi, Michelle, Ryan, Anand S.C., Avinash, Anjana (U.K), Sherry Ann, Camille, Dixie Ann, Devinesh, Sita, Danny, Sudesh, Kevin, Tricia, Monica, Richardson "Teddy", Bohla, Shiva, Ramesh, Sterling, Enion, Kavi, Kungi, Mukesh and Garvin
ACKNOWLEDGEMENT
The family of the late Ramnarine a.k.a. "Ramanan" wishes to thank everyone for the love, support and condolences extended
in our time of grief. Sita Ram.