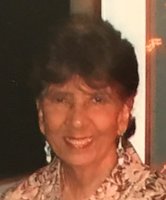 Madge Kathleen Sheila Rahamut
Madge will be lovingly rememberd as the:
Daughter of: Ivy & Raphique
Sister of: Kenneth (Dec), Leslie (Dec), Molly, Carol & Patrick
Sister-In-Law of: Sheila (Dec), Dhropatee, Oswald (Dec) & Anne
Aunt of: Kitty, Kenneth Jr., Anthony, Sharon, Tara, Tammy, Leslie Jr., Curtis, Michael, Patrina, Kevin, Alan, Ricardo, Lauriana, Tereselle & Marc
Niece of: Viola (Dec), Hugh (Dec), Sharifan (Dec), Ayesha (Dec)
Cousin of: Ram, Lucille (Dec), Camille-Anne, Sam, Zorina, Nisa (Dec), Mahazabin (Dec), Rehman, Agnes (Dec), Eldora, Azim & Zahida, Jaffo (Dec), Rosie & many others
Great Aunt of: Twenty-four (24)
Relative of: Rahamut's, Ramdial's, Yusuf's, Hosein's, Rahaman's, Ishmael's, Ramjohn's, Grant's & many others.
Friend of: Lawrence (Dec), Ruth & Natalie, Thelma, Farouk &
Grace, Sheldon, Avian & MANY others
Acknowledgement
The Family of the Late Madge Rahamut wishes to express our love, appreciation and gratitude to Suzanne, Suzette, Rachel & the Entire Staff of the Heavenly Care Nursing Home of Otaheite for all the love, care and attention they showed to Auntie Madge for the time she spent there.
We also wish to express our sincere appreciation to all those who called, expressed their condolences, contributed to the funeral expenses, handled the flower arrangements, took care of the food and drinks and attended the funeral. May God Bless You All.